"Count us in -we're attending"
Sign up min. 4 days prior to event
It sure helps when we know who is attending
Upcoming meetings & events
Saturday April 1, 2023 Middlesex Centre Archives Heritage Fair
Delaware Community Centre  2652 Gideon Drive Delaware ON from 10am -4pm
London & Western Ont Branch of UEL will have a display at the fair.   Our Linda Steele will be looking after our booth. Drop in and say hello.  It is FREE
For more information click on  Middlesex Centre website below.  There is a flyer summarizing activities
http://middlesexcentrearchive.ca/
Interested in Middlesex County Heritage?
Our organization thrives on Volunteers
In 2023 London & Western Ontario Branch celebrates 50 years. We are looking for one or two members to help organize a suitable celebration.
We are searching for another person to join our Board of Directors.  Consider volunteering.
It is always important to promote membership in UEL.  You can help.  Start by sending our website address link to three different friends.  Now send it to three different relatives.  Ask them to join.  That wasn't difficult.  Thanks for helping.
Come on People -VOLUNTEER Email Carol -say you will help
Mark your calendar -Coming event
April 4th -Stephen Davidson UE
You won't want to miss this exceptional speaker, historian
A retired teacher, Stephen has ancestors who sailed aboard the Union, the flagship of the Spring Fleet, which brought the first Loyalists to New Brunswick in May 1783.  His 1975 bachelor's thesis on an aspect of Black Loyalist history, became the basis for his contribution to the Dictionary of Canadian Biography.  In addition to contributing articles to The Loyalist Gazette and submitting over 825 articles to Loyalist Trails, Stephen's research has appeared in multiple genealogical periodicals, a national children's magazine, a number of Maritime newspapers, and The Beaver.
He served as a consultant for two websites created by the Univ of NB, spoke at two UELAC Dominion conferences, served as Peter C. Newman's consultant and researcher, and authored two books on Black Loyalists.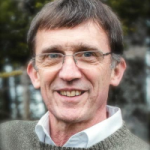 The period after the war of independence was a time of upheaval.  This interesting You Tube video expands on this period of history.  You may enjoy.  Click below.
Our Board of Directors 2023
President              Carol Childs UE  
Vice President     Jim Waines UE
Treasurer              Jim Stewart UE
Secretary              Jen Winterburn UE
Membership         Stewart Smith
Genealogist          Venessa Warner UE
Archivist               Ted Smith UE
Historian               Greg Childs
Education & Outreach   Linda Steele  UE